0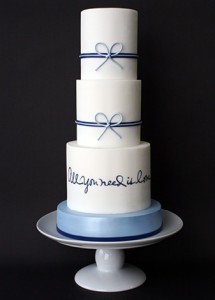 I love me some Beatles.  I have since I was a kid.  It's a cool mom who passes on her love of 60s bands to her children.
This cake is extraordinarily fabulous.  I mean, look at its simplicity, but it's perfectly complete. The double-height tiers and the simple corded bows are just fab, and I'm such a sucker for blue.  And that teeny tiny base layer!
But the real genius is, of course, the saying on the second tier. All You Need is Love.  Instantly recognizable, right?  And beautifully simple.  I hope the couple are keeping that alive.
But it works with anything, right?  A line from a song.  A poem.  Even a scripture.  It's a great concept, and I'd love to see the fun ways that people choose to make it their own.
Have you thought about inscribing words on your wedding cake?  What would you say?
(We found this cake on Pinterest, but it's the genius work of Mark Joseph Cakes.)
Read More:
beatles wedding cakes
,
blue and white wedding cakes
,
double height tiers