1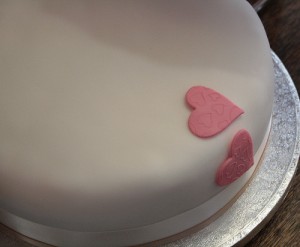 True story: I have been to a lot of weddings. I was in a sorority, and during my four years at college I was close friends with at least 40 different girls at different times. This leads to a lot of weddings. I have seen a LOT of wedding cakes. I have seen subtle, pretty ones; gorgeous, large fondant masterpieces; and cakes that…quiet honestly…look like someone's momma made them the night before the wedding. Those don't look great, but they always taste amazing!
Sometimes I think people can get stuck in the idea that you need a huge, grandiose wedding cake with tier after tier of amazing fondant creations. However, sometimes all you need is a simple cake.
I love this cake for its simplicity. It's a circle cake covered with a beautiful layer of fondant. Seriously, I don't see one blemish on that cake. Then it is topped with two pink, sweet hearts. If you take an even closer look at those hearts you will see that they actually have little hearts hand drawn on them. It's simple, sweet and to the point.
To quote one of my favorite Beatles songs of all time…Sometimes love really is all you need.
Read More:
fondant
,
fondant hearts
,
fondant wedding cakes