0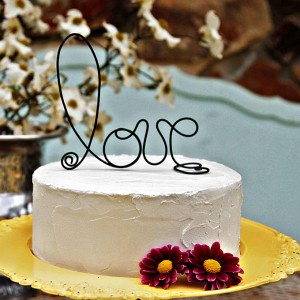 We don't often think about a simple one-tier wedding cake, but it's a trend that some brides are going with.
After all, if you're having a small reception there's no need for a huge multi-tier cake.
And if you're going to keep things simple, it's always a good idea to make it simply beautiful.
Just like this stunning white cake with the very chic "love" cake topper.
I love the stark white icing of the cake and how it is accented only by a couple of fresh flowers (which could match your bouquet!) and the rustic cake topper.
The cake is simple and elegant and just right for your small wedding celebration.
And, this beautiful cake goes to show that all you really need is LOVE.
You can find this one-tier cake here.
Read More:
cake toppers
,
fresh flowers
,
fresh flowers on wedding cakes
,
one tier wedding cakes
,
simple wedding cakes
,
white wedding cakes