0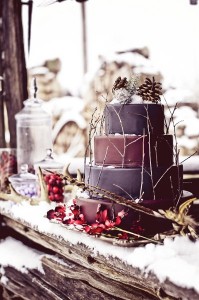 I thought I'd feature something a little different today.
You should know that I love the idea of a winter wedding. Actually, I think that for me, I prefer fall and winter over spring and summer anyday for a wedding. I think I love the minimalistic design elements of these seasons, and the rich, warm colors. And there's something about finding the beauty in a sparse landscape that really appeals to me.
This cake is like nothing I've ever seen. While it's clear to me that it was probably prepared for a stylized shoot — most people don't serve their wedding cake on a snowy bench, although maybe they should — it's just a lovely fantasy shot that I couldn't resist sharing.  The snow-laden, rough beams are a beautiful back drop, and even the cake, dressed up in rich shades of brown, blends, rather than standing out.  The pop of color comes from lovely red berries and flowers. Twigs and pinecones finish the look.  I think this is absolutely gorgeous.
What are your thoughts?  Would you go this rustic?  Or do you prefer a little more polish to your winter look?
Read More:
brown wedding cakes
,
pinecone wedding cakes
,
Rustic Wedding Cakes
,
seasonal wedding cakes
,
snow wedding cakes
,
winter wedding cakes