2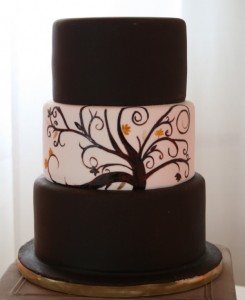 Isn't this pretty? So nice and…autumn-y.  I think Christen will be really impressed with me for posting this one.  What do y'all think?
This beautiful cake, made by Slice Cake Studio in Longmont, CO, was inspired by the couple's wedding invitation!  I would really like to see that stationary personally, because this is stunning and I think it just looks, well…yummy.
Three layers, perfectly uniform in height…the bottom and top covered with a rich, chocolate-brown fondant.  And sandwiched between, a lovely layer with a hand-painted late autumn tree, sporting the last vivid leaves of the season.  Love, love love!
Christen asked just the other day if fall brides prefer to feature fall-themed cakes at their weddings.  With examples as delightful as this one, which perfectly depict the whimsy – with just a touch of the sadness of the year growing old – how could you not?
Check out Slice Cake Studio's website – much sighing at the beauty of what you see will ensue.
Read More:
autumn wedding cakes
,
brown wedding cakes
,
cakes inspired by wedding stationary
,
hand-painted wedding cakes
,
seasonal wedding cakes
,
tree wedding cakes