0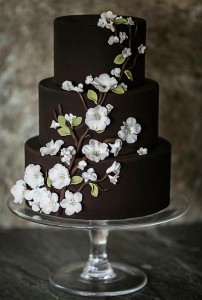 The first day of fall is about a week away so it's about time to start showcasing some gorgeous fall wedding cakes.
And while I'm not normally a fan of brown as a color, I do love brown wedding cakes. I think it's because they look so dramatic and they really lend themselves to the fall season.
This dark brown wedding cake with white flowers is stunning.
The three-tier cake features a dark espresso colored icing accented with delicate white flowers and it is beautiful.
And one can imagine it's probably a chocolate cake under the icing which makes it even more spectacular.
This cake would be equally stunning if the bride chose red flowers as the accent, but the white is perfect too.
It's an ideal cake for a fall or early winter wedding.
You can find this lovely fall cake here.
Read More:
brown wedding cakes
,
fall wedding cakes
,
white and brown cakes
,
white flowers