0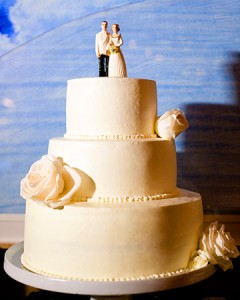 I'm feeling a little — okay, a whole lot — classic today. And so my cake choice reflects that.
I love the elegant simplicity of the white buttercream wedding cake that's trimmed with roses and topped with an uber traditional bride and groom.  It would seem that the wedding was an affair with lots of "glitzy ambiance" so this cake struck the balance between the indulgence and the simple.  And when you go with the classics, you don't really need birds flying around the top or fireworks shooting off the sides, do you?
At the end of the day, after I've seen all of the over the top designs of my wonderfully talented cake artist friends, it's the simple approach taken here that I love the most.  Call me Plain Jane if you will.  There's just something lovely about a cake that's done perfectly that doesn't need a lot of frills.
What's your preference — lots of details or a light touch? Weigh in below. 
Read More:
bride and groom wedding cakes
,
rose wedding cakes
,
traditional wedding cakes
,
white wedding cakes