0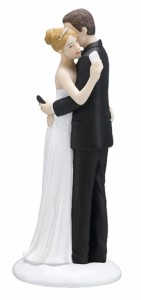 If there's one thing we can't live without these days, it's our smartphones.
So you had to expect that someone would come up with a cake topper that features a bride and groom with their phones. And friends, I found that cake topper.
I have to say, it's rather adorable and I'd probably want it for my wedding cake.
I will fully admit that had I been the owner of a smartphone 11 years ago on my wedding day, I would have been updating my social networks throughout the day.
This cake topper is absolutely perfect for the always-connected, social media addicted couple.
The bride and groom can be customized with specific hair colors to look like you and your groom. You can choose from red, gray, brown, black, and blond for the hair color.
I found the cake topper here. So check it out, and then go text your husband-to-be and tell him you found the perfect cake topper!
Read More:
Bride and Groom Cake Toppers
,
cell phone cake toppers
,
modern cake toppers
,
modern wedding cake toppers
,
Texting bride and groom cake toppers
,
whimsical cake toppers