0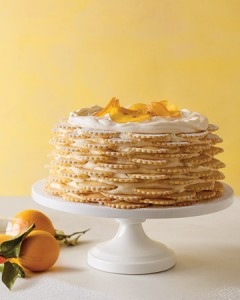 I am in love with lemon right now.
I mean, to be honest, the passion is always just smoldering just below the surface. But right now, it's about to erupt to the top and take over every dessert opportunity that my family has. And this cake is not helping. I'm pretty sure I'm going to need to make it this weekend…and there's not a wedding in sight.
I. Just. Love. It. We are thinking that this is the perfect cake alternative for the children's table, or a lovely and whimsical bridesmaids brunch. Lemon cookies, held together in an intricate design with honey mascarpone cream, and topped with candied lemon slices make for a beautiful centerpiece. Add some finger sandwiches and some tea, and you have a squeeeee!-worthy menu.
Read More:
bridesmaids cakes
,
icebox cakes
,
kid friendly cakes
,
lemon icebox cakes
,
yellow wedding cakes