0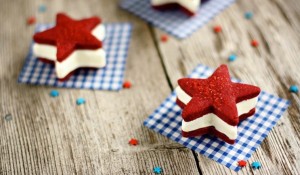 Ah summer…it's almost here and that means summer weddings! And what's more fun to eat in the summer than ice cream? Which got me thinking – what about ice cream sandwiches at a wedding?
Look at those patriotic ice cream sandwiches! They are beyond cute – and they're red velvet shortbread, so that's even better. How perfect would those be for a wedding favor on Memorial Day weekend or the 4th of July? Or maybe you're thinking forget the favors, these are a great substitution for the wedding cake. Personally I love the idea of everyone getting their own cake and ice cream in a cute little package.
I originally spied this ice cream sandwich idea at this blog and just had to share with you. The original photo and recipe for the red velvet stars can be found here.
Read More:
fun wedding favors
,
ice cream sandwich wedding cakes
,
ice cream wedding cakes
,
july 4th wedding cakes
,
memorial day weekend
,
red velvet wedding cakes
,
red white and blue wedding cakes