0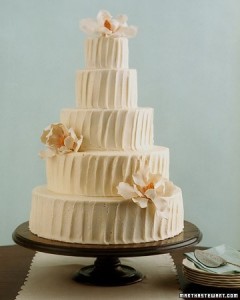 I was in the mood for simple today. Maybe it's because life seems so fast and so complicated. So I went in search of simplicity, and this is what I found. If life can't be simple today, my choice of cake sure can be!
Remember all those times that you helped to frost those cakes, and Mom or Grandma took extra care to make the frosting all loopy and swoopy before calling it a done deal for the bake sale or cake walk or covered dish or what have you? Me too. And that's what this cake reminds me of – a grown up, slightly more sophisticated, swoopy loopy frosting cake. The cake, by the way, is red velvet, so I can imagine the slices were just lovely.
Featured on the pages of Martha Stewart, we spied this on on Pinterest.
Read More:
cream wedding cakes
,
red velvet wedding cakes
,
Rustic Wedding Cakes
,
white wedding cakes