0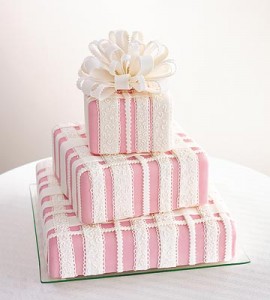 Everybody loves getting presents wrapped in pretty paper and topped with a perfectly tied bow, right?
Sure they do! And that's why I love this pretty in pink wedding cake so much. It's just so darn cute I couldn't resist sharing it with you today.
This gorgeous three-tiered confection would be perfect for a smaller wedding, a winter wedding, a spring wedding, or even your bridal shower.
I love the square layers – they give the cake a nice, modern feel. And I'm also loving the pink icing. But the best part of the whole cake has to be the scalloped ribbons created from rolled fondant. They're so perfect that at first glance you might think this is a real present.
This cake really is almost too pretty to eat. Almost.
I found this lovely cake here.
Read More:
fondant
,
fondant ribbons
,
pink and white wedding cakes
,
Pink wedding cakes
,
present cake
,
present wedding cake
,
present wedding cakes
,
square cakes
,
square wedding cakes
,
white fondant ribbons