0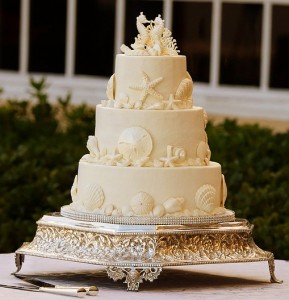 I hope you aren't tired of beach-inspired wedding cakes, because I probably never will be.
I know that I've featured my fair share of wedding cakes that incorporate ocean elements over the last couple of years, like this Teal Seashell Wedding Cake from a wedding in Key West.  Well, today's cake has kind of an interesting story, too.
This cake was made for a recent wedding at The King and the Prince, a lovely old resort on St. Simons Island, Georgia.  I'm familiar with the beautiful setting because my brother and sister in law were married there as well.  It really is a charming and low key spot, and I highly recommend it if you ever get the chance to visit.  I spent the weekend tooling around the island in a convertible, so it was doubly good for me.
But back to the cake.  White on white, displayed on an ornate silver cake stand.  The kissing seahorses on top are simply darling.
Read More:
beach wedding cakes
,
Georgia wedding cakes
,
seashell wedding cakes
,
st simons island georgia
,
the king and the prince
,
white on white wedding cakes
,
white wedding cakes