0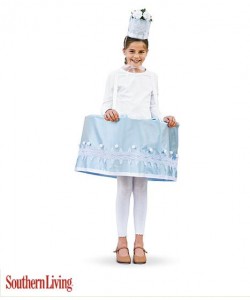 Happy (day before) Halloween!
As this is one of my favorite holidays, I thought it would be fun to feature something that isn't exactly a traditional wedding cake.
Something like this wedding cake Halloween costume.
Honestly how cute is this? Sure every girl wants to be the bride but how fun would it be to dress up as the cake instead?
This DIY costume looks rather simple to make, even if you're needle-and-thread challenged like me. In fact, I bet you could skip the needle and thread altogether and fasten everything with a hot glue gun. And we all know how fun those can be!
The skirt is formed with heavy duty cardboard and is draped with blue or white satin. The suspenders that hold up the cake are made from ribbon and you can even let your little one "decorate" the cake with glitter, pom poms, and other embellishments.
The cake topper hat is made with cardboard and fabric and can also be decorated however you'd like.
This really is a perfectly simple and totally adorable (and original!) costume. Heck, you could even make it today if your kids are still looking for costume. Let them be cake!
Read More:
Blue wedding cake costume
,
DIY costume
,
halloween
,
Halloween costume
,
ribbon wedding cake
,
Wedding cake costume
,
wedding cake costume for kids
,
white wedding cake costume