4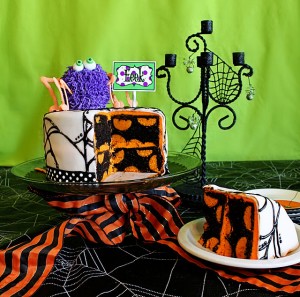 Halloween is my second favorite holiday of the year.  It's a close second to Christmas…but that's not really a fair comparison though.  I mean Christmas lasts from November 1st to January 1st…basically.  Halloween gets a good solid week of celebration but it's such a FUN celebration.  One day (or two or three if you happen to be extremely popular and get invited to multiple parties) a year you get to abandon yourself and pretend to be someone (or something) else for just a little while.  Did you know that Halloween weddings are actually more popular than Christmas weddings?  It's true.  I looked it up in this big book I have in my living roomthat says "True Facts by Christen" on the cover.  Actually, I have no idea if Halloween weddings are more popular than Christmas weddings.  I just know I've heard of more.  And, it's not all goth people who have them either.  Halloween weddings can be quirky and fun.  To celebrate Halloween I've decided to feature some of my favorite Halloween cakes that I've seen creeping around the interwebs.  Truthfully, I found most of them on Pinterest.  Where else?  Some of them are wedding cakes…some of them aren't.  Either way they are awesome-sauce and knock my Halloween socks off.  It's true.  I have them…they are orange and black with a purple witch on them.
My favorite is this Spider Cake featured above from SnowyBliss…check it out here…it's POLKA DOTTED inside.  She made it by first making orange cake balls and then strategically placing them inside chocolate cake and baking.  Genius!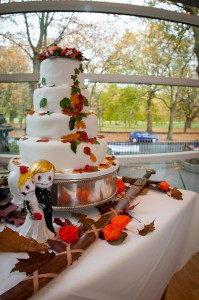 I love how this cake is all traditional and classy.  It screams fall with the crisp white fondant covered in orange, green and red leaves.  Then it gives a little punch of saucy Halloween by adding the creepy skull bride and groom.
What about this fun lopsided cake that was originally featured here? It features a great black and orange designed cake with my personal favorite Halloween icon on top…Jack Skellington and Sally from The Nightmare Before Christmas.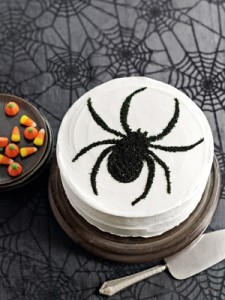 This creepy spider cake was originally featured in Country Living Magazine.  I believe this may be the only time in my entire life that I might say the following.  That spider looks delicious.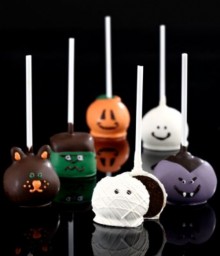 I'd be remiss if I didn't include the craze that is cake pops like the ones that are featured here.  Seriously, these things came out of nowhere.  However, they are incredibly cute and I especially love these Halloween themed cake pops.  They would be great for a fun Halloween themed wedding.
So what do you think?  Are Halloween weddings your thing?  Or, do you think Halloween is more for kids?
Read More:
autumn cakes
,
fall cakes
,
fall themed cakes
,
halloween
,
halloween cakepops
,
halloween cakes
,
halloween wedding cakes
,
jack skellington
,
polka dot cakes
,
sally
,
scary wedding cakes
,
skull cake toppers
,
spider cakes
,
the nightmare before christmas wedding cakes
,
wedding cakepops