0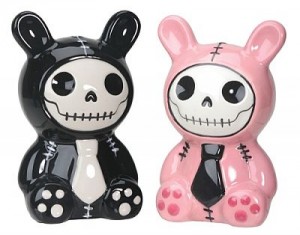 First and most importantly – Happy Halloween!
Since today is the day for ghosts and ghouls and goblins, I thought it was only fitting to showcase a wedding cake topper with a Halloween vibe.
And so, I give you the 'Bun-Bun Skeleton Wedding Cake Topper.' Yes, the name is really Bun-Bun Skeleton. And people will actually use these as their cake topper!
I haven't decided yet if the Bun-Bun Skeletons are cute, or creepy, or a little bit of both. Are they bunny rabbit skeletons? Or skeletons dressed in bunny rabbit costumes? Either way, these might be the most unique cake toppers in the history of ever.
And, if you're into the whole gothic bunny rabbit skeleton thing, I think these would be perfect on your wedding cake – no matter if it's Halloween or the middle of spring. They'll certainly get the guests talking!
Oh and after the wedding you can use the Bun-Bun Skeletons as salt and pepper shakers!
We found these cute and creepy cake toppers here.
Read More:
Halloween cake toppers
,
halloween wedding cakes
,
halloween weddings
,
wedding cake toppers