0
Posted on May 13, 2013 by Traci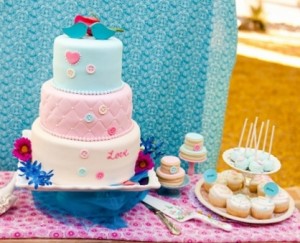 Raspberry and blue – it's one of those happy color combinations. It's bright and springy and this cake showcases the perfection of these two colors.
I am loving the simple beauty of this cake from the buttons to the quilted frosting to the simple "Love" on the bottom tier. The pearl embellishments between the cake layers are elegant and flirty and fun. Then there's the adorable cake topper – love those little blue lovebirds. And let's not forget the very cute and always popular cupcakes and cake pops on the side. You can never have too much cake.
This cake was part of a wedding photo shoot that celebrates the color combo of raspberry and blue. The cake was designed by Inspired Occasions.
Other Posts You May Enjoy:
Read More:
bird cake toppers
,
Blue Wedding Cakes
,
buttons
,
homespun wedding cakes
,
light blue wedding cakes
,
pale pink wedding cakes
,
quilted wedding cakes
,
raspberry
,
raspberry wedding cakes
,
Rustic Wedding Cakes
,
simple wedding cakes
,
sweet wedding cakes
Recent Posts