0
Posted on November 18, 2013 by Traci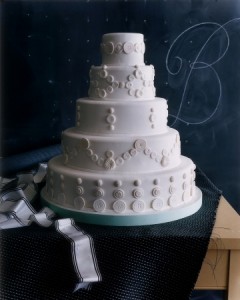 I'll be the first to admit that I can barely sew a button onto a shirt, but that doesn't mean I don't love buttons.
There's something about buttons – they're cute and round and have so many more uses than just holding your coat closed.
Take for instance this wedding cake adorned with edible buttons.
It's a rather whimsical cake and is certainly not a design that immediately comes to mind when one thinks "wedding cake."
And I think that's why I love it so much.
Whether you're a big fan of crafts and sewing, or you're a fan of fashion, or you just really like buttons, this cake would definitely be the talk of the reception. The variety of edible buttons created for this cake is spectacular – it really takes a potentially ho-hum everyday item and turns it into something incredible.
I found this buttoned up cake here.
Other Posts You May Enjoy:
Read More:
button embellishments
,
button wedding cakes
,
buttons
,
cakes with buttons
,
edible buttons
,
round wedding cakes
,
white cakes
,
white on white cakes
,
white wedding cakes
,
winter wedding cakes
,
winter white weddings
Recent Posts