0
Posted on August 20, 2014 by Traci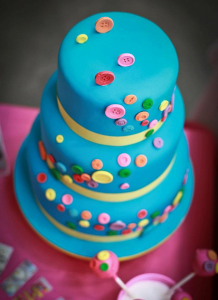 I'm always on the look out for those wedding cakes that aren't "ordinary" and I think today's cake fits that bill perfectly!
First, I love the bright blue hue of the icing for this three-tier cake. It could totally be your "something blue" on your big day.
And it's so cheerful – it would be perfect at your summer wedding.
Then there are the buttons that adorn the cake. How often do you see a wedding cake with buttons? My guess is almost never. Which is what makes this cake so unique.
I love the whimsy of the brightly colored buttons – they are so non-traditional which makes this cake ideal for a fun, informal wedding reception.
The cake was created by Swirls Bakery and we found it here.
Other Posts You May Enjoy:
Read More:
Blue Wedding Cakes
,
bright wedding cakes
,
buttons on wedding cake
,
buttons wedding cake
,
non traditional wedding cakes
,
summer wedding cakes
Recent Posts