0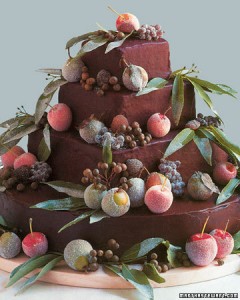 It's around this time of year when I really start to feel the "Christmas spirit" and so I wanted to find a wedding cake that felt like the holidays.
I think this one comes pretty close.
When I saw this cake with the sugared fruit and candied chestnuts I immediately thought of 'sugar plum fairies' and 'chestnuts roasting by the open fire.'
Another reason I love this cake – it's' chocolate. And we all know you can never have too much chocolate cake, even at a wedding.
The four tiers – one round tier and three square – feature a cake filled with hazelnuts and semisweet chocolate and the whole thing is frosted with a decadent chocolate ganache. The sugared fruit is a combination of lady apples, grapes, and other small fruit coated with fine sugar, plus bunches of candied chestnuts.
It's just so darn festive and would be perfect at your winter or holiday-themed wedding.
I found this lovely cake here. And if you're feeling really ambitious, you can find the recipe to make this cake here.
Read More:
chocolate ganache
,
chocolate ganache cakes
,
chocolate wedding cakes
,
fruit and chestnuts
,
holiday cakes
,
holiday themed wedding cakes
,
holiday wedding cakes
,
sugared fruit