holiday cakes
0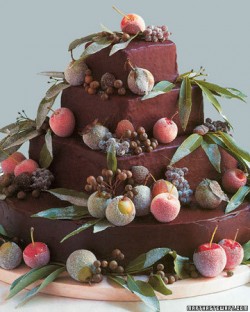 It's around this time of year when I really start to feel the "Christmas spirit" and so I wanted to find a wedding cake that felt like the holidays.
I think this one comes pretty close.
When I saw this cake with the sugared fruit and candied chestnuts I immediately thought of 'sugar plum fairies' and 'chestnuts roasting by the open fire.'
Another reason I love this cake – it's' chocolate. And we all know you can never have too much chocolate cake, even at a wedding. Read More
0
This is going to be the first of a few cakes that we feature from our friends at Pink Cake Box. Let's face it…these girls know cake and they know how to embrace a good theme with class and style.
This holiday wedding cake is a typical square wedding cake with the three tiers covered in ivory fondant. The base of each tier is trimmed off with a crisp layer of ivory fondant ribbon. The exceptional part of this cake is the hand painted holly leaves and berries on this cake. Truth be told I think the "commercialism" of Read More
0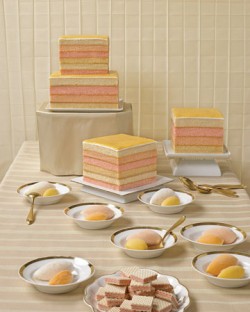 The week before Christmas.  Is your hair on fire, like mine?
What a beautiful time of the year, when we remember hope and excitement and a thousand other things that make life sparkly and fun…that is, if we don't wear ourselves out in the process.  So my hope for you this week is that, at some point, you can grab a cup of cocoa, filled to the brim with marshmallows, sit in front of your Christmas tree, or by candlelight or glow of a fire, and just be.
It's a crazy week for me too, so let's do this.  And we'll start with Read More