0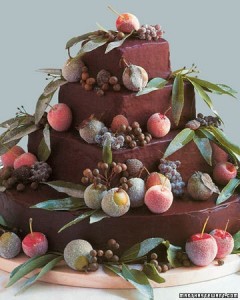 Once again we're talking about chocolate! I can't help myself – with all the Halloween candy at the stores my brain immediately thinks "chocolate."
I think chocolate cakes are perfect for fall and winter weddings – they're dark and decadent and seem to fit in with the colors and themes at this time of the year.
A chocolate cake in the summer would just be too much. But in the fall, when it's cold and blustery outside, it's perfect.
And this chocolate cake adorned with sugared fruit would be lovely at your late fall or early winter wedding reception. It would also make a great groom's cake!
I love that that bottom tier of the cake is round while the others tiers are square – it's different without being too shocking. And the addition of the laurel leaves is the right amount of "floral" for the cake. Of course if you aren't a fan of sugared fruit and leaves you could adorn the cake with fall flowers.
Either way, your guests will be wowed by this chocolate confection.
You can find this cake here. And if you're feeling ambitious, you can make this cake too!
Read More:
chocolate wedding cakes
,
DIY cakes
,
fall wedding cakes
,
groom cakes
,
winter wedding cakes