0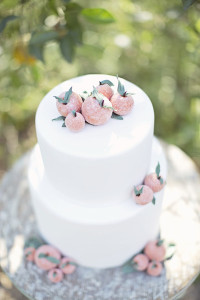 If there's one wedding cake trend I can really get behind it's the use of fresh fruit on your wedding cake.
I especially love this idea when we're in the middle of summer and all the fruit is so fresh and pretty and colorful.
A wedding cake adorned with deep red strawberries or raspberries or pretty blueberries is the ultimate summertime cake.
But let's not forget about the bigger fruits, like peaches or apricots. Used sparingly they can be just as pretty on a cake without weighing it down or looking out of place.
Take today's featured cake. It's adorned with what looks to be sugar-coated pears and apricots and it is stunning! The sugar coating gives an added touch of elegance to the cake (and the fruit).
You can find today's cake here. It was created by Earth and Sugar.
Read More:
apricots on cakes
,
cakes with fresh fruit
,
cakes with fruit
,
peaches on cakes
,
summer cakes