0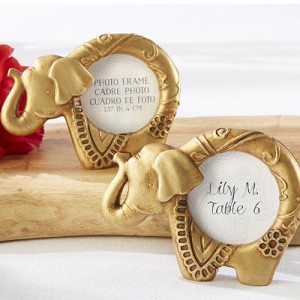 It's always a good idea to have some sort of "lucky charm" on your wedding day.
And if you have the something old, new, borrowed, and blue why not add lucky elephant to the mix?
I'm loving these "lucky golden elephant" photo frames!
Elephants are a traditional good luck item and it's even better when their trunks are raised as it means good fortune will be showered upon everyone!
And these frames would be ideal as place card holders. Your guests will love to take them home as a favor too.
These frames would be lovely at an elegant wedding reception, especially if you're trying to work the color gold into your theme.
You can find these lucky elephant frames here.
Read More:
elegant wedding favors
,
frames
,
fun wedding favors
,
gold wedding favors
,
Lucky elephants
,
place card holders
,
wedding favors