0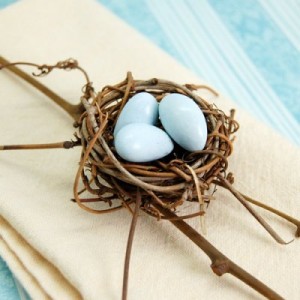 We are thinking spring this week and so I had to find a cute favor that would be perfect at your spring wedding.
I think this mini bird nest is it.
With the warmer spring weather (that we're sure is coming any day now), the birds will start chirping again and building their little nests.
So what better way to celebrate spring than by using mini bird nests as part of your theme?
These mini nests would be perfect as place card holders at your reception. And to add to the spring theme, you could fill them with small candies – jelly beans, M&ms, or even light blue Jordan Almonds like in the photo. They look just like little eggs.
These nests are hand-woven with real vine and they're attached to real twigs. The would also be perfect if you're going with a "love birds" theme or if you had one of these cute bird nest cake toppers!
You can find these adorable mini bird nests here.
Read More:
Bird nest wedding favors
,
jordan almonds
,
love birds cake toppers
,
love birds wedding cakes
,
love birds wedding favors
,
mini bird nest favors
,
spring wedding favors
,
wedding favors