0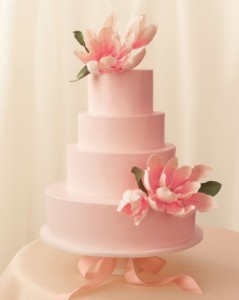 Since we're only about a month away from Valentine's Day, I'm starting to look for everything in shades of pink.
And what luck! I found this pretty little gem today.
I love, love, love this pretty pink confection. It's so pink and so romantic and it practically perfect in every way.
The four-tier cake features a lovely pale pink icing and the only embellishments are the delicate sugar paste magnolias.
The flowers look so real, but they're completely edible – even though I think they're too pretty to eat.
This cake would be lovely at your Valentine's Day wedding or even at a spring or summer wedding. If you're a fan of pink and magnolias this is your cake.
I found this lovely creation here.
Read More:
edible sugar paste flowers
,
floral wedding cakes
,
magnolia cake
,
magnolia wedding cake
,
pink flowers cakes
,
Pink wedding cakes
,
sugar flowers
,
sugar paste flowers