0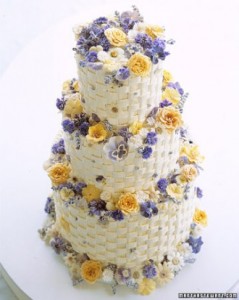 Everything is coming up roses (and violets, pansies, lavender, and cornflowers) with this stunning wedding cake!
I absolutely love this cake because it elegantly screams 'spring!' and because those are real flowers that have been crystallized with sugar.
The three-tier cake is frosted with buttercream icing that was piped on to resemble a basket weave – so the cake actually looks like baskets full of fresh flowers.
This cake would be stunning at your spring wedding with the crystallized pansies, roses, lavender, cornflowers, and violets. The colors of the flowers against the white basket weave icing make the whole cake pop. And the flowers will sparkle in the sunlight thanks to the sugar crystallization.
And, if you want to really wow your guests … purchase the edible flowers from a trusted supplier! That way, your guests could nibble on the crystallized flowers if they were so inclined.
You can find this floral creation here. And if you're feeling really adventurous, you can find the DIY instructions for the cake and the crystallized flowers here.
Read More:
basketweave wedding cakes
,
crystallized flowers
,
floral wedding cakes
,
pansies
,
Roses
,
spring wedding cakes
,
sugar flowers
,
violets
,
weddding cake with fresh flowers
,
wedding cake with crystallized flowers