0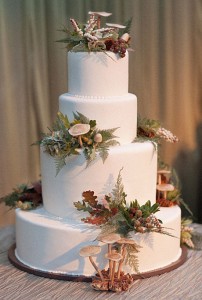 There's a distinct chill in the air and the leaves are finally changing, so in my mind it is officially fall.
Which means I'm going to start sharing some great fall-inspired wedding cakes and other goodies. I absolutely love fall weddings – maybe because I had one many moons ago – and there is so much you can do to spruce up your fall wedding day.
For example, you could have a beautiful cake like this woodland themed cake.
Look closely, those ARE mushrooms on a wedding cake.
I know what you're thinking – mushrooms have no place on a cake or near a cake. But don't get too worried, these are marzipan mushrooms so all is still right with the world.
From the marzipan mushrooms to the fresh berries and ferns, this cake is perfect for your fall or early winter themed wedding. It would look stunning on a table accented with greens, reds, and browns. And the simple white icing with delicate pearl details around the tiers really allows the woodland accents to stand out and make a statement.
Plus, how often do you see marizpan mushrooms on a wedding cake? That alone would make it an unforgettable wedding.
I found this cake designed by d'Elissious here, along with some other great fall wedding ideas.
Read More:
berries on wedding cake
,
Fall
,
fall color wedding cakes
,
fall foliage wedding cakes
,
fall inspired weddings
,
fall themed cakes
,
fall wedding cakes
,
fall weddings
,
ferns on wedding cake
,
marzipan mushrooms
,
woodland wedding cake