0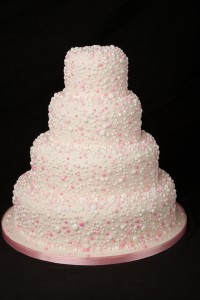 I'm quickly becoming a fan of pink wedding cakes, and this cake covered with tiny pink dots is one of my new favorites.
This four-tier cake is so pretty and delicate, but also fun and whimsical with all those tiny dots in varying shades.
Our friends at Hockleys Cakes in the United Kingdom created this lovely cake (called the "Carnaby") and it took them eight hours (yes, 8 hours!) to hand pipe the dots onto the icing.
The dots give the cake depth – it helps that the dots are different shades of pink that coordinate with the delicate pink icing.
But more than that they give the cake a very contemporary look and feel. This isn't some polka dot cake, this is an elegant cake embellished with hand piped dots.
This cake would be lovely at your summer wedding and it would add a touch of modern sophistication to your reception, whether it's a formal or informal affair.
Thanks to our friends at Hockleys Cakes for sharing another one of their amazing creations!
Photo credit: Hockleys Cakes
Read More:
contemporary wedding cake
,
hand piped dots
,
modern wedding cakes
,
pink dots wedding cake
,
Pink wedding cakes
,
polka dot wedding cakes
,
polka dots on wedding cakes