1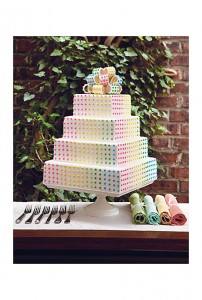 Do you remember those candy dots you used to eat as a kid?
You know, the ones that were stuck to strips of paper so you inevitably ended up eating paper AND candy?
How cool would those be on a wedding cake (minus the paper, of course)? Pretty cool if you ask me.
So imagine how happy I was to find this very modern take on the candy dot wedding cake.
It's bright and colorful and cheerful. And it will take your guests back to their childhood (assuming they're old enough to remember candy dots).
I love the square tiers of this cake – it gives the cake a sleek and modern vibe. And the candy dots are created with royal icing (you didn't really think they peeled hundreds of dots off paper did you?)
This would be a super fun cake at a spring or summer wedding – and I bet if you didn't want rainbow colors (who wouldn't?) you could get your baker to create royal icing dots in colors to match your wedding theme.
The cake was created by Lochel's Bakery. You can find this cake here.
Read More:
colorful wedding cakes
,
modern wedding cakes
,
rainbow dots
,
rainbow wedding cakes
,
retro candy wedding cakes
,
royal icing dots
,
square wedding cakes