0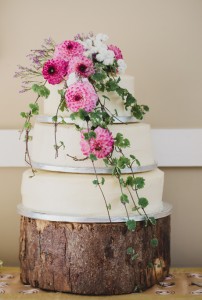 Sometimes a simple wedding cake is exactly what a bride wants for her summer wedding.
Maybe you don't want all the frills and tiers. Maybe you just want something simple and pretty.
And maybe you even want a DIY cake.
If that description sounds like you, then we have found your cake!
This homemade (as in, made at your home!) white wedding cake is a lovely three-tier cake with zinnias and ivy.
Of course you could always find a baker to make your cake -after all you do have other things to focus on – but either way we love this wedding cake because it's no fuss. And the tree stump cake stand? It's so perfect.
The zinnias could be from your own garden too – if you're a multi-tasker like that. Or you could choose another summery flower, perhaps something that matches your bouquet. Add the cascading ivy and you have a picture perfect cake for your picture perfect day.
You can find this gorgeous DIY cake here. Photography by SOSAC Photography.
Read More:
diy wedding cakes
,
floral wedding cakes
,
simple wedding cakes
,
summer wedding cakes
,
wedding cakes with zinnias