0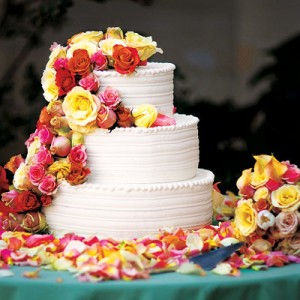 I was looking at celebrity wedding cakes this week and found so many over-the-top, 10-foot-tall creations that I just wanted something simply and pretty.
So when I saw this lovely and simple cake I knew I had to feature it.
This three-tiered cake was created for the wedding of actress Jaime King anddirector Kyle Newman in November 2007. The cake was a berry and coconut creation, with simple yet lovely white frosting.
The cake's only decoration were multi-colored roses that matched the roses in Jaime's bouquet. (I actually did the same thing at my very non-celebrity wedding!) The red, pink, and yellow roses on the couple's cake made a simple cake simply beautiful.
As an added bonus, guests were able to take home a bag of sweets from vases of chocolates at a dessert table.
I found this lovely cake here. Photo credit goes to David Sand.
Read More:
celebrity wedding cakes
,
celebrity weddings
,
coconut wedding cakes
,
pink roses on wedding cakes
,
red roses
,
Roses
,
roses on wedding cakes
,
simple wedding cakes
,
strawberry whipped cream
,
white wedding cakes