0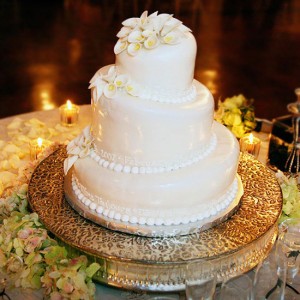 As much as I love wedding cakes with color – especially fall colors – there is something to be said for all-white wedding cakes.
An all-white wedding cake can be stunning and elegant and just downright beautiful when done properly.
Take this cake – the tilted white wedding cake.
Each tier is playfully tilted in a Mad-Hatter-Alice-in-Wonderland manner which makes this cake whimsical and elegant.
The stark white icing is accented on each tier with dates significant to the couple, which is a great idea. This is a wonderful way to personalize your wedding cake.
This cake would be beautiful any time of the year, and if you wanted to add a small pop of color you could change the sugar flowers to something like mini roses or daisies.
We found this beautiful cake here.
Read More:
all white cakes
,
fall wedding cakes
,
modern wedding cakes
,
simple wedding cakes
,
white wedding cakes