0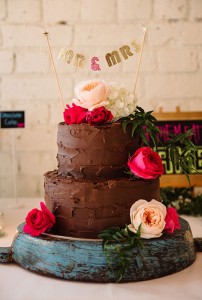 If there's one non-traditional wedding cake that I'll always be a fan of it's the chocolate wedding cake.
Everyone is expecting a cake with white icing, even if the cake inside is a variety of flavors. So why not wow your guests and surprise them with a chocolate frosted cake?
The cake flavors could vary – chocolate, marble, yellow – but to see a wedding cake frosted with gloriously delicious chocolate icing? That would be incredible!
This kind of cake would work best in the fall and winter – chocolate cake just doesn't seem like a summer kind of cake.
And what I love most about chocolate cakes – aside from the frosting – is that they look stunning when adorned with fresh flowers. My favorites are dark red or dark pink flowers. It just makes the whole cake pop!
You can find this cake here. It was photographed by Jerome Cole Photography.
Read More:
chocolate frosting
,
chocolate wedding cakes
,
fresh flowers on cakes
,
non traditional wedding cakes