0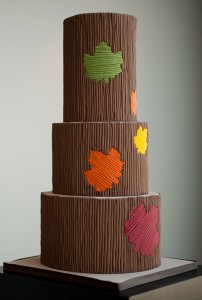 The leaves are falling from the trees in earnest around here and I have to admit I'd prefer if the leaves stayed on the trees for a bit longer. Because we all know that once the leaves have fallen the snow takes over.
But let's not get ahead of ourselves. Today we're talking about leaves. Bright colored fall leaves.
Just like the fondant leaves on this "tree trunk" wedding cake.
I just love the cool fall vibe of this cake.
The tiers are frosted with chocolate fondant to give them the tree trunk look – and really, who doesn't love chocolate trees? And each tree trunk is decorated with brightly colored "maple" leaves made out of fondant. It's fall perfection!
This cake would be the perfect centerpiece at your fall wedding.
We found this lovely fall wedding cake here. It was created by Sweet Sweets Cake Art.
Read More:
brown wedding cakes
,
fall wedding cakes
,
leaves on cakes
,
tree wedding cakes