0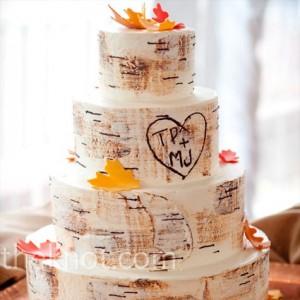 A few years ago the hubs and I decided to tighten the purse strings.  The first thing to go?  Our way too expensive satellite.  And we never looked back.
That is until I realized that we could get those bunny ear antennas and I could still watch One Tree Hill.  Last night I pulled out those bunny ears and got to watching the very last season premiere of One Tree Hill.  In honor of that I thought that featuring this tree-inspired cake was appropriate.
The cake featured a tree bark-inspired fondant adorned with fall colored leaves.  My very favorite feature has to be the bride's and groom's initials etched in the side of the tree err…cake.
This cake was featured on The Knot.com.  What do you think?  Do you like the faux tree theme?  Did you watch One Tree Hill?  Can you believe Brooke drives her babies around in her car all night?  Do you know what I'm talking about?  Do you care?
Read More:
autumn wedding cakes
,
bark cakes
,
bark wedding cakes
,
fall cake
,
fall themed wedding cakes
,
Rustic Wedding Cakes
,
seasonal wedding cakes
,
the knot wedding cakes
,
themed wedding cakes
,
tree cakes
,
tree wedding cakes