0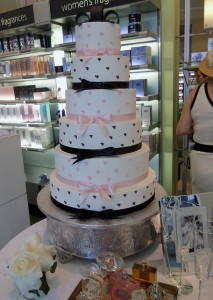 So. Clearly. This is a display cake.  I thought I'd go ahead and just out that gorilla in the room right up front.
But seriously…even surrounded by perfume bottles, and with a backdrop that is obviously retail in nature…how in the world could I refuse?  Can't you just SEE Grace Kelly striding up for a slice in a twin set, pencil skirt, and pearls?
Okay, it's just me.
If you know anything about this girl, you know that I am madly in love with anything classic, and just about all things preppy.  This cakes is all of the above.  Alternating layers of plain, buttercream-frosted cake, with a motif of dotted Swiss in black and pink on alternating layers.  Each layer is wrapped up pretty-as-you-please with corresponding satin ribbon, culminating with a perfect black bow topper.  I just want to grab my Kelly bag, tie a scarf around my hair, tuck my arm into Troy Donahue's, and GO!  What about you?  Does cake inspire you to old Hollywood movie fantasies, like me?
Read More:
Black Wedding Cakes
,
bow wedding cakes
,
buttercream wedding cakes
,
classic wedding cakes
,
pink and black wedding cakes
,
Pink wedding cakes
,
preppy wedding cakes
,
satin ribbon wedding cakes