0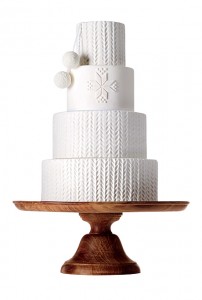 Baby it's cold outside!
So why not pick a cake for your winter wedding that reminds your guests of a warm – and very stylish – sweater?
OK, that doesn't sound very intriguing does it? But just look at this beautiful all-white wedding cake and tell me it's not stunning!
Aside from the whole all-white-cake vibe going on, just look at the design on this cake. It reminds me of one of those very cozy winter ski sweaters that are all the rage during the winter. This cake makes me want to snuggle up next to a fire with a big mug of hot cocoa.
Plus, I'm loving the pom-poms at the top of the cake – they're just so darn cute.
This cake would be so perfect at your winter-themed wedding. And if you really wanted to, I bet you could add a pop of color to it with a fresh floral topper (minus the pom-poms of course).
We found this cake here. It was created by Erica O'Brien Cake Design.
Read More:
all white wedding cakes
,
snowflake wedding cakes
,
unique wedding cakes
,
white wedding cake
,
winter wedding cake