Green Wedding Cakes
Green is not the most common color for a wedding cake, but there's no reason that green can't be beautiful. Any color can be striking if used appropriate and there are plenty of cakes that make great use of the color green.
0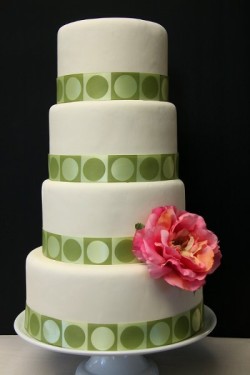 Green wedding cakes aren't something we normally feature around here, except maybe around the holidays.
But if you think about it – and look at today's featured cake – green cakes are quite amazing.
It's not a color you'd think about when considering a wedding cake, unless of course your favorite color is green.
However, it's a lovely shade when paired with a modern white cake. Read More
0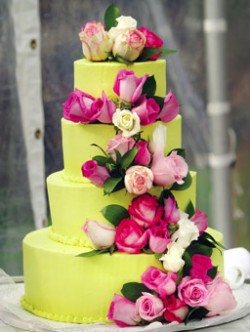 This week we're thinking about all things green in honor of St. Patrick's Day!
And while it isn't easy being green when you're talking about wedding cakes, it is quite pretty.
Also, you can't get more "spring-y" than green. That's one of the things we love most about spring – everything is turning green!
Today's cake takes a unique turn with the color green as it's more of a lime green than a "grassy green." Read More
0
I'm all about thinking spring right now!
Sure it's been a mild winter here in the Midwest but with a potential snowstorm in tonight's forecast I've decided that I'm done with winter and just want to focus on spring.
And spring means all things green! It's the one time of year that I really, really like the color green.
Green grass. Green leaves. Shamrock Shakes. You know, all things spring. Read More
0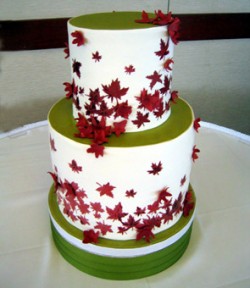 It's beginning to look a lot like Christmas around here so it seemed like a good day to find a green and red wedding cake!
I love this cake. It's fun and modern and whimsical. And it would be great for a winter wedding.
The three-tiered cake features bright green icing one the top of the tiers which really makes the cake pop. Read More
0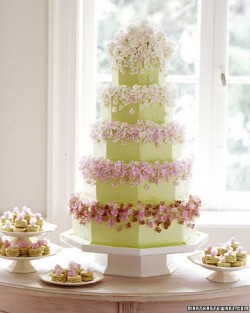 Since we're inching closer and closer to Christmas it seemed like a good time to feature a green wedding cake.
Today's cake is a five-tier creation and it is elegant and gorgeous and it would be incredible at a black-tie reception.
While I'm not a huge fan of the color green, this cake grabbed my attention thanks to its unique hue. It's more lime green than evergreen but the addition of the sugar hydrangeas makes it perfect. Read More
0
I love the beach. Specifically I love how the color of the ocean can change throughout a day from dark blue to greenish-blue and back again.
This wedding cake reminds me of my favorite ocean color – that sea green-blue when the water is clear and you can see to the bottom.
The three-tier cake features square cakes adorned with simple white icing and seafoam green Necco candy wafers. Read More
0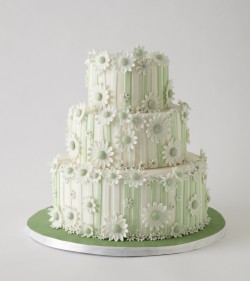 Everything is coming up daisies!
This cake practically screams "spring!" in a refined yet fun manner. I love the unique color scheme of pale mint green and white.
It's unexpected for a wedding cake but that's what makes it so perfect. This is a truly unique cake and not something that every bride will want at her reception.
The three-tier cake features happy daisies and some love fondant stripes that give it a spring festival vibe. Read More
0
Tomorrow we'll all be celebrating St. Patrick's Day and the wearing o' the green, so today seemed like a good day to showcase a cake with little green shamrocks!
This lovely three-tier cake is iced with gorgeous rolled fondant which is decorated with sugar paste four leaf clovers. Read More
0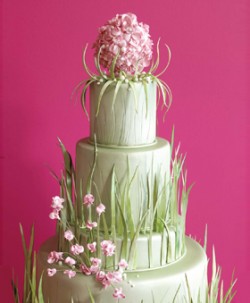 The great spring thaw of 2015 is happening right now in the northern half of the country and we're slowly starting to see hints of green(ish) grass under the melting snow!
Which got me thinking about springtime grass and flowers and everything starting to bloom. Which of course made me think about green wedding cakes with flowers. It's how my brain works. Read More