0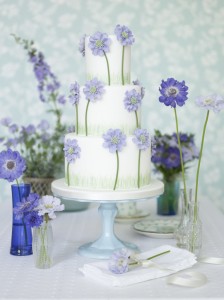 My favorite color is purple but oddly enough I didn't use the color in my wedding.
Which might be why I love to see purple showcased in weddings whether we're talking flowers, dresses, or even the wedding cake.
I love this cake not only because it's purple but also because it is fun and whimsical and would be perfect for a late spring, early summer wedding.
The three-tiered cake actually looks like it is blooming with lovely purple flowers and if you look closely at the icing you can see "grass" painted onto the fondant.
It's such a fun and cheery cake and it's the perfect size for a smaller reception. And if you aren't a fan of purple flowers I'm sure it would be just as lovely with another color. I'd love to see this cake with red flowers too!
You can find this floral cake here. It was created by Zoe Clark Cakes.
Read More:
floral wedding cake
,
purple wedding cakes
,
simple wedding cakes
,
spring wedding cakes
,
summer wedding cakes
,
wedding cake with flowers