purple wedding cakes
0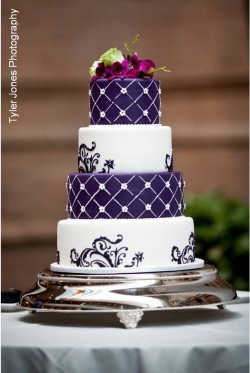 When I saw this cake, I knew I had to feature it.
We are not strangers to Intricate Icings – we love their work!  It's always so meticulous and, well, interesting.  So often, I'll spy a cake I love, and won't be surprised that it's the work of this awesome Colorado bakery.
This cake is no exception.  I think two things drew it to me:  first, the richness of the purple.  To me, purple – or really, any deep, strong color – must be treated carefully when it comes to cake.  One false move…one tint or shade the wrong way…and you have MESS on your hands.  But the hue of this cake is just incredible!  Rich, deep, vibrant.  Perfect.
The second detail I love?  The diamond piping, which is so meticulously executed.  I love how the lines don't always connect…how they are perfectly straight and even, as though they were snapped with a chalk line.  How each cross is punctuated with alternating dragees and little flowers.  And the white layers deserve a mention, too.  Look closely:  that's not a damask-style stencil; those designs are piped.  The steady hand that decorated this cake is extraordinary.  And the whole thing is captured just so by Tyler Jones Photography.