0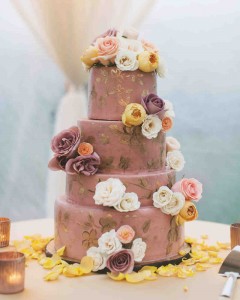 Purple is my absolute favorite color. It's the color of royalty and it's my birthstone.
And had I given it much thought, I would have added purple to my wedding color scheme all those years ago. Like, maybe by having a purple wedding cake.
Just like today's featured cake.
This lovely, muted purple cake is stunning.
The four-tier cake is frosted with a purple cream cheese icing and adorned with gold leaf details and fresh flowers.
And it's perfect! This cake would be lovely any time of year, but I'd love to see it at a late winter or early spring wedding.
You'll find this pretty purple cake here. It was created by One Sweet Slice.
Read More:
fresh flowers on cakes
,
gold leaves on wedding cakes
,
purple and gold cakes
,
purple wedding cakes
,
spring wedding cakes