0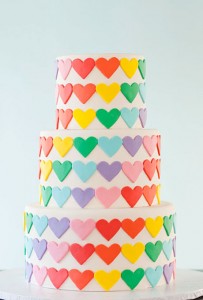 If there's one thing your wedding day is guaranteed to be full of it's love. Lots and lots of love.
And what better way to show off that love than with a wedding cake adorned with colorful little hearts? This cake practically screams LOVE! … but in a dignified manner of course.
What I love about this cake is that it is elegant and whimsical at the same time.
Also I'm a big fan of heart-shaped items at a wedding. Heck, my entire wedding cake was created with heart-shaped layers!
The rainbow hearts are fun, but if you're not looking for a rainbow cake you could request the hearts to be all red or pink or another color that would match your color scheme.
But I still think the rainbow hearts are the best.
You can find this cake here. It was created by Wild Orchid Baking Company.
Read More:
fun wedding cakes
,
holiday wedding cakes
,
rainbow cakes
,
summer wedding cakes