0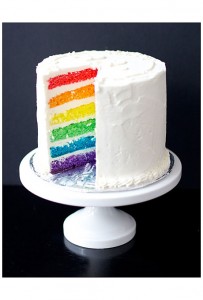 It's been raining a lot around here lately – you know, spring showers and all. Which of course has me thinking about rainbows.
I love the idea of a rainbow wedding cake – especially a subtle cake like this one.
On the outside it looks like your standard white wedding cake but when you slice it, you get every color of the rainbow!
It's fun and whimsical and subtle. And it's the perfect wedding cake for a spring or summer wedding.
Sure this is just a one-tier cake but you could expand on the idea and have several tiers like this. Your guests are sure to love it.
You can find this rainbow cake here. It was created by Love & Olive Oil.
Read More:
colorful wedding cakes
,
fun wedding cakes
,
rainbow wedding cakes
,
spring wedding cakes
,
summer wedding cakes