0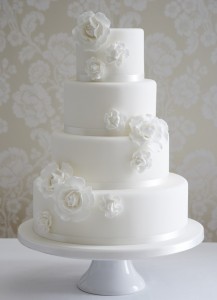 We've featured a lot of very bright and vibrant wedding cakes on this blog, but sometimes it's nice to get back to basics.
And today that means an all-white wedding cake creation.
This all-white cake would work in all seasons and with any color scheme making it versatile and very elegant.
I love the simple satin ribbon around each tier of the cake and the white flowers add to the overall elegance of the cake.
If you're looking to add a little bit of color I think the cake would be very pretty with colored ribbon around the tiers – think dark red for winter and maybe a pink ribbon in the spring. Black ribbon would add some serious dramatic flair!
You can find this all-white stunner here.
Read More:
all-season wedding cakes
,
flowers on cakes
,
ribbons on cake
,
white wedding cake