0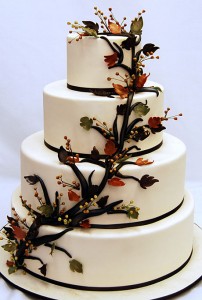 Here we are, a day before Thanksgiving and I wanted to find a cake that looked and felt like fall (despite the fact that it's probably snowing in certain parts of the country).
I think this cake hits the mark.
I love the elegance and simplicity of the colors on the cake against the very white icing.
This four-tier cake is decorated with brown ribbon in between each tier, adding a dramatic flair to the overall look. But what really makes it a "fall" wedding cake are the cascading leaves and berries.
The gumpaste brown and green leaves combined with the berries are the perfect fall color palette. This cake would be a stunning centerpiece at your fall wedding – before or after Thanksgiving.
This cake was designed by Pink Cake Box and I found the image here.
Read More:
fall color palettes
,
fall color wedding cakes
,
fall foliage wedding cakes
,
fall leaves
,
fall themed cakes
,
fall wedding cakes
,
thanksgiving weddings
,
white wedding cake