0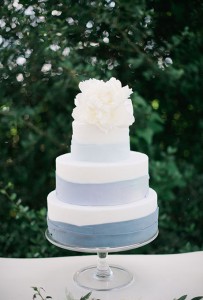 Today is the second day of March, which means we are daydreaming about springtime and flowers and warmer weather.
However, it is also currently snowing outside so we are also thinking about snow and ice and cold – all the wintry things that look like the colors of this cake.
We love this gorgeous cake. The three tiers each feature a different shade of blue and it gives it an elegant ombre look.
The beautiful white bloom as the cake topper is the perfect addition. Anything else as a cake topper would be too much for this cake.
This cake would be lovely at a late winter/early spring wedding – the color are absolutely perfect for this time of year. It really has a timeless elegance.
You can find this cake here. It was created by Buttercup Bakery Houston.
Read More:
blue and white cakes
,
blue and white wedding cakes
,
Blue Wedding Cakes
,
cakes with fresh flowers
,
spring wedding cakes
,
winter wedding cake