0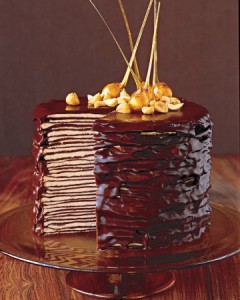 I love chocolate cake.
And when we're talking about wedding cakes I love unique chocolate cakes.
Like this crepe wedding cake, for example.
Look at how gorgeous this cake is! Layers of thin crepes sandwiched between dark chocolate glaze and hazelnut filling. It is pure chocolate bliss.
And the crepe cake is embellished with candied hazelnuts so you just know it'll be delicious.
This is a rather elegant wedding cake so I can imagine it a small, elegant reception. Or perhaps as the centerpiece for dessert bar. If you were feeding a large number of guests this beautiful cake might not be big enough. (Of course you can always have more than one!)
You can find this amazing chocolate cake here.
Read More:
chocolate and hazelnut cakes
,
chocolate wedding cakes
,
crepe cakes
,
elegant wedding cakes
,
hazelnut cakes
,
small wedding cakes
,
unique wedding cakes