0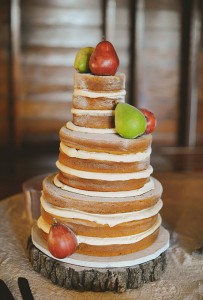 There's a chill in the air and we're all looking to cover up in sweaters and jackets as the days turn cooler.
So, it seems like a perfect time to showcase a naked cake, right? Of course it does!
Naked wedding cakes are still somewhat of the rage and I'll admit that I have found a few that look amazing. But I'm still a frosting kind of girl, so as pretty as these cakes are I prefer more icing.
But that's not to say that there's anything wrong with naked cakes. Take today's cake for example – it is stunning.
The layers are just a bit off center which gives the cake a rustic and somewhat whimsical look. And between each layer and tier is an ample amount of gorgeous icing. The colors are perfect for fall.
And the embellishment of fresh apples and pears make this the ideal cake for your fall wedding, especially if you're going for the rustic yet elegant vibe.
Presented on a slab of wood, this cake is the cake to have this fall.
You can find this fall-inspired cake here. It was created by Sugar Bee Sweets Bakery.
Read More:
apple wedding cake
,
fall wedding cake
,
fruit on wedding cakes
,
naked wedding cake