0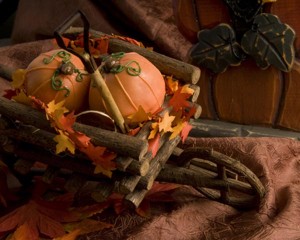 Today is the first full day of fall and I have to admit I'm completely obsessed with all things pumpkin right now.
\Maybe it's the chill in the air or the changing color of leaves, but if I could have a slice of pumpkin pie with a cup of pumpkin coffee all would be right with the world.
And then I thought how perfect pumpkins would be at a fall wedding! You could use pumpkins as part of your centerpiece, or maybe have a pumpkin cake layer or talk your groom into serving pumpkin pie as his grooms cake. (Too much?)
Or you could give your guests one of these adorable pumpkin patch brownies as their wedding favor.
Each pumpkin features a chocolate brownie on a stick, frosted to look just like a pumpkin fresh out of the pumpkin patch, all the way down to the green vine on top. They're individually wrapped in clear cellophane and then you can choose a ribbon color to match your wedding colors.
Not only are these perfect for that fall wedding – especially if it's an October or Thanksgiving wedding – but cake pops are all the rage right now. And you can never go wrong with chocolate brownies. These favors are a win-win for everyone.
You can find these adorable pumpkins and other fall themed wedding favors here.
Read More:
brownie cake pops
,
Fall
,
fall cakes
,
fall color palettes
,
fall leaves
,
fall themed mini cakes
,
fall themed wedding
,
orange cake pops
,
pumpkin
,
pumpkin cake pops
,
pumpkin wedding cake toppers
,
pumpkin wedding cakes